Description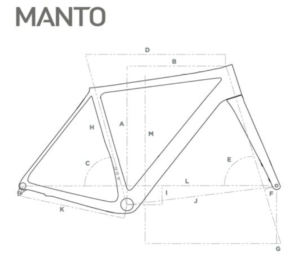 SIZE GUIDE
Manto is available in six sizes to suit almost every rider
SIZE 48 – Recommended for riders from 152 to 163cm tall
SIZE 51 –  Recommended for riders from 161 to 170cm tall
SIZE 54 – Recommended for riders from 170 to 177cm tall
SIZE 56 – Recommended for riders from 175 to 181cm tall
SIZE 58 – Recommended for riders from 180 to 188cm tall
STIFFNESS
For power delivery and quick, confident handling and cornering.
COMFORT
For long rides and ensuring that the rider can always perform at the highest level.
AERODYNAMICS
Reducing aero drag for the best efficiency and pure speed, on and off road.
WEIGHT
For a lively feel and to save energy, without compromising stiffness and comfort.
LIFETIME WARRANTY
The Frame and Fork have a 2 year warranty that you can upgrade to a lifetime warranty if you register your frame serial number in Mawest or Aurum website.